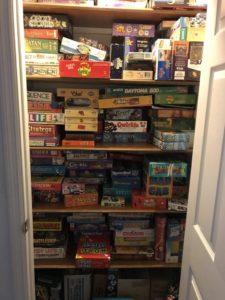 IF YOU WANT TO SWITCH OUT SOME OF YOUR OLD GAMES THAT YOU AND/OR YOUR KIDS NEVER PLAY ANYMORE, BRING THEM TO THE LIBRARY.
WE ARE CURRENTLY DOING A 'BOARD GAME SWITCH' FOR THE WINTER. YOU CAN BRING IN YOUR UNWANTED GAMES AND IF YOU FIND ANY GAMES THAT SOMEONE ELSE HAS BROUGHT IN THAT YOU WOULD LIKE TO TAKE HOME AND PLAY, IT'S YOURS TO KEEP.
THIS IS A GREAT WAY TO SPEND TIME WITH THE FAMILY DURING THE COLD WINTER DAYS THAT YOU ARE STUCK INDOORS OR EVEN TO HAVE A NICE FAMILY EVENING TOGETHER.
SO…
BRING YOUR GAME
ON IN.